About Your Visit
Referrals
Generally, our patients are referred by their primary eye care doctor for a comprehensive retinal exam. However, a referral is not required for a retinal evaluation.
Paperwork
Upon your arrival, you will be asked to complete a medical questionnaire. It is important to fill it out accurately, but do not hesitate to ask us for help. In addition to your health history, we will ask you to fill out your insurance information.
Please bring the following items with you on the day of your first visit:
A list of all of the medications you are currently taking, including eye drops
The name and address of your referring physician
The name and address of your primary medical doctor
Your insurance cards
The Exam
During your visit, we will take care of the health of your eye, but is also very important to us that you feel comfortable and that you understand each step along the way. Our staff of ophthalmic technicians is truly second to none in experience and expertise. They will greet you and begin your evaluation.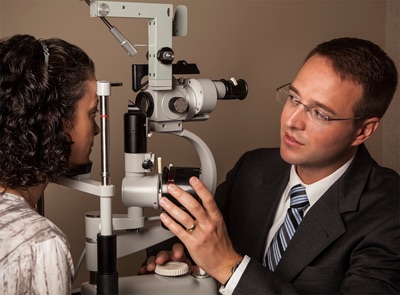 First, a thorough medical and ocular history will be taken. Your vision will be checked, and then your eyes will be dilated with eye drops. These drops dilate the pupil so that the doctor can see to the back of the eye. Dilation typically lasts three to four hours. Initial consultation may take 3 hours in the office since most diagnostic testing and treatments can be offered on the same day. Follow up evaluations typically take much less time.
Once your eyes are dilated, either Dr. Clay Bavinger, Dr. Phillip Laird, Dr. Adam Laviña, Dr. David Levine or Dr. Paul Gallogly will see you to review the history of your current problem with you, and then he will examine your eyes. He will discuss his findings with you and then recommend any appropriate tests. Many of the tests can be done right then with our state-of-art diagnostic equipment. Most of the tests involve images, and the doctor will review those images with you on a large computer screen.
The doctor will explain your problem to you, and he will go over all of your options. If you need a procedure, most of them can be done in the office. Surgery is performed at the Laser and Surgery Center of the Palm Beaches, which is across the street from our office in Palm Beach Gardens.
Communication is very important in medicine, and your referring or primary doctor will get a full report about your visit. In addition, you will receive a copy of the consultation for your records. All visit notes are also available through your patient portal. Many of our patients live part of the year elsewhere. We have a network of qualified retinal specialists throughout the world, so you can receive care seamlessly should you require care elsewhere.
Procedure Scheduling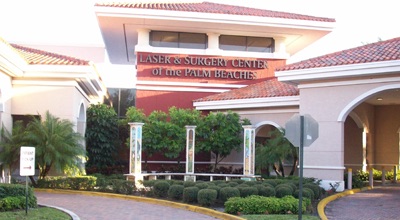 You will meet with our surgical coordinator to arrange the time and date of your procedure. Medical clearance, pre and post-operative medications, and post-operative recovery devices, if indicated, will be discussed at that time. All surgeries are performed as an outpatient at our state-of-the-art surgery center, Laser & Surgery Center of the Palm Beaches www.laserandsurgery.com, conveniently located across the street from our office.